There's an "emo" in all of us.
And whilst I don't get to read and write at all lately, my friend Mark has just released his second awesome book. (He didn't pay me to advertise this; worse, he didn't give me discount for the two copies I bought...)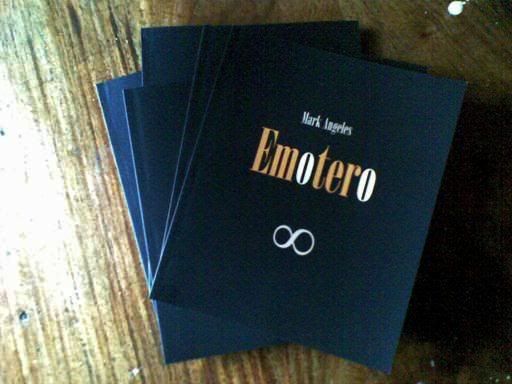 "Mark Angeles, also known for his cybermoniker Makoy Dakuykoy, releases his 2nd indie book, Emotero.

The book is a collection of 88 100-word narratives inside a story. One day, the main character Karl Mensaje received a package. Its content: a notebook full of stories. Angeles dares us to step into the labyrinth of the book.

He poses, "Is it a collection of stories or a book-length short story? Are the stories drabbles or prose poems?" "I laid down a handful of puzzles in Emotero," he added. "Start with the main character. Even the book cover design is an enigma. They are all related. You have to read the book from cover to cover to understand the mystery."

Emotero tells the tales of a prostitute, a bisexual, a transexual, an embalmer, a magician, a prison warden, tollgate keeper, fortune teller, magician, ex-military, sympathizer and member of New People's Army among others. Even the stories of a cow, a goat, and a sheep.

Angeles's first indie book, Patikim, a collection of his notorious love poems has been received well by both the academe and literary enthusiasts. He is a Palanca awardee and an activist."

(from panitikan.com.ph)
To order: send an email to akosimakoy@gmail.com. Or msg me.